The reason I have shamefully neglected my blog during the last few weeks is because I was really busy with house hunting :o) I have found the perfect house for our needs - not too big but enough garden for Sophie to run around and me to have fresh roses & herbs AND of course finally, finally a SHOE-ROOM!!!!
As clocks tick very precisely but seemingly significantly slower here in Switzerland than anywhere else, we don't have the key yet so I didn't have a chance to get the renovation work stared inside yet. But as you know, I'm not the most patient person in the world, so I needed to feel I'm already doing something for my new home.
I started with clearing out old stuff - boy, who accumulates all these things in less than two years?!! Can't possibly have been me, or can it?!
Since most of the things I decided don't need to come to the new home were still in very usable condition (also because I combined two households, many things were double - who needs two wafer makers - actually who needs a single one in the first place?!) I took them to Caritas. They were very happy to take on my things, I was relieved to be rid of the,m and all the money they sell it for goes to charity! I decided to make it my new fav treasure hunting place as well ... one can really find wonderful things there for very little prices! Admittedly one also needs a bit of imagination of what things could look like once you've put your hands on them ;o)
I got some old furniture that I planned to renovate:o)
Whoever knows me well, would probably faint at the idea of picturing me having a good time sourcing work material at a home base shop - well, actually I also never thought I would deliberately enter one ;o) BUT I'm living proof that it CAN be exciting to buy a sandpaper machine, paint, brushes, etc.
Step 1: Take the piece of furniture apart as much as possible; don't forget to unscrew also the locks!
Step 2: Sandpaper all the surfaces
Step 3: Wash with soapy water and then once again with white spirit to make sure all traces of grease are gone! At this point you might feel very sorry for your piece of furniture because it really, really looks to be in a sad condition!
Step 4: 'Mask off' all places you don't want to get paint on! Don't forget the holes where the locks go, otherwise they might not fit back in with the additional layers of paint!!!
Step 5: Three layers of creamy white paint applied with brush and roll
Step 6: After putting 'shadows' in a mix of silver & gold paint and adorning the glass door and inside shelf with lace - I gave myself a pat on the shoulder and knew I deserved a glass of good Bubbly :o)
Project number 2: A corner cabinet will always come in handy :o)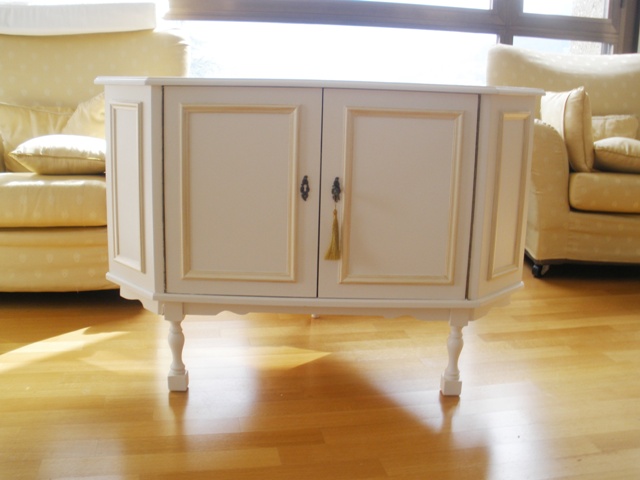 And this is what it looks like after following the steps mentioned above :o)
My 'masterpiece' ... since this cabinet must be a good hundred years old and the carving work is very intricate, it took a looooot of time just to prepare it for the actual paint job - but it was great fun and I'm happy with the finished look!