Re-designing Louboutins
As you guys know very well by now, I'm a great, great, GREAT fan of Christian Louboutin's shoes! They are crafted immaculately, very comfortable once broken in (which I have to do with basically all my new shoes) and are simply spectacular! Having raved so much I came across this pair:
I really like the patchwork-idea of using different leathers, but for my own wear I absolutely HATE earth tones ... and mustard-yellow reminds me of the smell of hotdogs which to a vegetarian is not the most pleasant thing in the world!!! BUT I saw potential in them and decided to buy them anyway and use them as a starting point for a new art project ;o)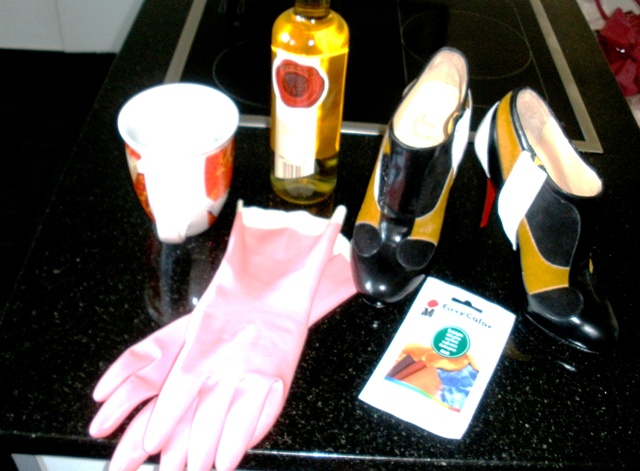 The idea was to dye the pony fur part to an emerald green. I knew that regular fabric paint would make the hair go stiff, so using that was out ... I then thought of using batik colour, figuring that if it dyes silk which is made of animal fibre it would also work on hair ... I prepared pink rubber gloves, dissolved the colour in a cup with boiling water, adding vinegar ...
This is the disappointing first result :o( Although the initial colour was muted a bit, it wasn't colourfast and far from the emerald I tried to achieve!
For a moment I was at a loss of what to do next - obviously not wanting to declare defeat when it comes to a creative project, much less when the object is shoes!!!
And then a brain wave hit me: Why not change the idea of green to black and go for simple hair dye?!
So I washed off the batik disaster and went ahead to mix up hair dye instead :o)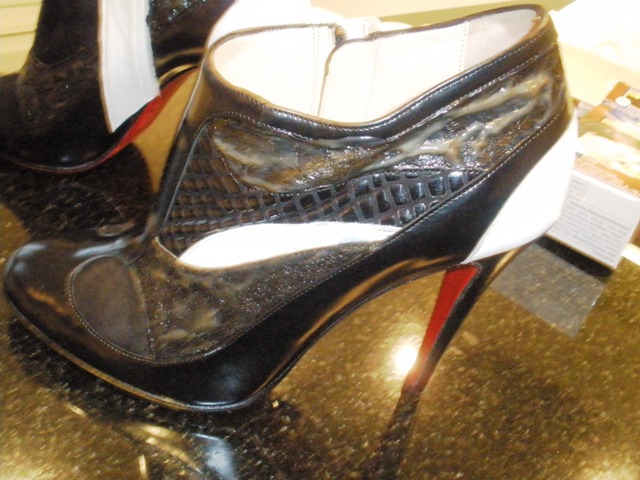 After 15 min it was already obvious that this undertaking would be crowned with much more success :o) The pony patches were starting to turn dark -> YEAHHHHH!!!!
Et voilą!!!
If Christian Louboutin would ever find out what I did to his shoes one of two things could happen:
He will hire me on the spot and give me the position of design consultant ... I'd see all the upcoming new designs first thing, could test them by wearing them -> this would be pure shoe-girl-heaven!!!!! :o)
The other option is more equivalent to shoe-girl-hell: He might ban me internationally from ever entering one of his shops again! UNTHINKABLE!!!!!
Not wanting to risk the later, please be a true friend and don't tell him, OK? ;o)
As soon as my now successful art project had dried up and was ready to wear, I wanted to find an outfit that would complement it perfectly and this is what I came up with for a dinner out with friends:
Black top: Valentino Red
Long sleeve T-Shirt: H&M
Pants: G-Star
Tah-taaaahhhhh, ready to go out ;o)